An inspirational Rumi Quote to share with family and friends to motivate them to achieve greater heights in life.Share the inspirational message on their special milestones and holidays to remind them your thoughts are with them.
Let this quote written in beautiful typography on an elegant background be a source of inspiration.
"You were born with potential.
You were born with goodness and trust.
You were born with ideals and dreams.
You were born with greatness.
You were born with wings.
You are not meant for crawling, so don't.
Learn to use them and fly."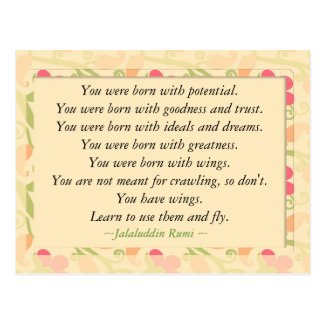 Rumi Quote Inspirational Motivational Postcard
by
semas87
Try Zazzle's
custom postcards printing
.
Thank you Claire from UK for choosing this inspirational postcard.